HIDDEN TREASURE FROM GOLDEN LAND
november 6 thru december 6


In this Burmese art and craft show, explore 12th century techniques of Sand Painting, Gems Painting, Embroidery and Lacquer Ware through traditional works by contemporary artists.

This exhibit is made possible by Ei Ei Khin, who has secured all artworks.

Gift items are avaiable for purchase. Custom orders are welcome. A Burmese translator will be on site during this exhibit.



Click HERE to read more about this exhibit.
Click HERE to view images from this exhibit.
EYES OF MARCH

WOW! We had a great response to our proposal for a pop-up art event. Late last year and during this past summer, Eric photographed EYES of folks from our community, and Elizabeth is creating hundreds of images from these photographs.

Click HERE to view some Fort Wayne EYE images from last year's photos.

We have been in contact with the Downtown Improvement District and various businesses about showing these EYES in front windows during March 2016. More details to come . . .


OPEN NOVEMBER 6 THRU DECEMBER 6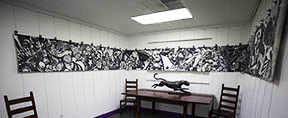 3R Gallery will open on November 6th for 5 weeks with regular hours: Fri 5-8pm, Sat 3-6pm & Sun 1-4pm. And on Saturday, November 28th, we will be open from 11am-5pm for Holly Trolley shopping!

Elizabeth is excited to be going on another photo shoot to Ireland during the last two weeks of October.


Click HERE for the location and hours of 3R Gallery.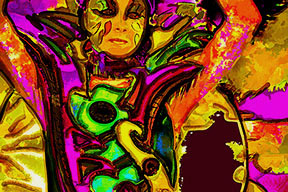 The art of Elizabeth Balzer, PhD,
is on display at 3R Gallery. Elizabeth is the artist-owner of 3R Gallery. Her visionary art will transport your mind beyond the ordinary, and images will be continuously rotated throughout the year. Click
HERE
to read about Elizabeth's art, or click
HERE
to view her art gallery.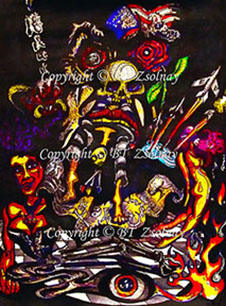 3R Gallery also showcases
the art of Brandon Zsolnay
throughout the year. Brandon is a freelance artist and his mind-bending visual images will be on permanent display at 3R Gallery, with newer art pieces continuously rotating through our ongoing exhibitions. Click
HERE
to read about Brandon's art, or click
HERE
to view his art gallery.
Please visit this site often as our exhibits and art are continually changing. And if you live in the Fort Wayne area, we hope to see you at our gallery.
Sincerely,
Elizabeth
Site Map
|
Contact Us