SOLE NATURE! Multimedia Artworks by Elizabeth Balzer, Brandon Zsolnay and Camille Hayes. Come for a visionary Organic experience that will _____ your mind!?!

Click HERE to read more about our current exhibition.
Click HERE to view images from our current exhibition.
SATURDAY NOVEMBER 30TH IS HOLLY TROLLY SHOPPING!
We are a stop on the tour and will have original artworks for sale by local artists. We will be open from 11 AM to 6 PM. Light refreshments will be served.

We have expanded our Open Hours to Fri 5-8 PM, Sat 3-6 PM, Sun 1-4 PM and by appt.

Brandon's spectacular outdoor mural can be seen at Wunderkammer,
and three of Elizabeth's artworks can be viewed until March 15th
at the Arts United Center.


Click HERE for the location and hours of 3R Gallery.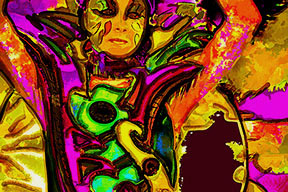 The art of Elizabeth Balzer, PhD,
is on display at 3R Gallery. Elizabeth is the artist-owner of 3R Gallery. Her visionary art will transport your mind beyond the ordinary, and images will be continuously rotated throughout the year. Click
HERE
to read about Elizabeth's art, or click
HERE
to view her art.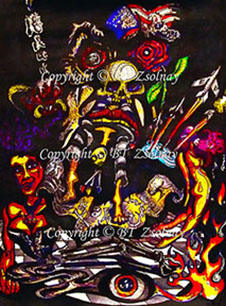 3R Gallery also showcases
the art of Brandon Zsolnay
throughout the year. Brandon is a freelance artist and his mind-bending visual images will be on permanent display at 3R Gallery, with newer art pieces continuously rotating through our ongoing exhibitions. Click
HERE
to view Brandon's art gallery.
Please visit this site often as our exhibits and art are continually changing. And if you live in the Fort Wayne area, we hope to see you at our gallery.
Sincerely,
Elizabeth
Site Map
|
Contact Us